Hibbard SuperTone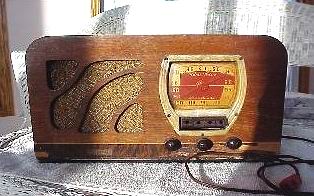 comparison
| | |
| --- | --- |
| | |
| Truetone D-1014 | Mantola G49-XJ6 |
I've only seen a few other Hibbard radios, so the origins of this late '30s set are a mystery. Somehow I imagine it to be a store brand from the midwest -- maybe the old Hibbard & Co. Department Store in Colorado Springs, or the venerable Hibbard, Spencer, Bartlett & Co. hardware store in Chicago, precursor to True Value. Here I'm comparing my Hibbard SuperTone (top) with some other similar radios I've seen.
The Hibbard's dial bezel is certainly the same as this Truetone radio (which may be made by Detrola), but the schematic shows that the two sets have entirely different chassis. The Hibbard cabinet is certainly simpler and cheaper than the Truetone's. The little Mantola radio has the same dial and control arrangement, and the same chassis, but in a painted-bakelite cabinet. It's made by Continental Radio & Television, and is evidently their XJ6 chassis, which is listed in Rider's as a 1940 design. I like the dial a lot on the Hibbard, and hope that the rest of the set will live up to it when restored.
The chassis, by the way, is a standard "All American Five," with the following tubes: 12SA7 converter; 12SK7 IF amp; 12SQ7 detector and 1st audio; 50L6 output; 35Z5 rectifier. A ballast "tube" contains the dropping resistor for the pilot lamp. The set tunes the standard AM broadcast band, and a 2.8 to 6.58 megacycle shortwave band.

A fellow collector sent me a photo (below) of a bakelite-cabinet Hibbard, and I stumbled upon an eBay posting for this wooden cabinet Supertone. So there are more Hibbard and Supertone radios out there than I first thought!
| | |
| --- | --- |
| | |
| Bakelite-cabinet Hibbard | Another Supertone |